<! CHECK STOCK !>
SOLD OUT PRICE: $ 23 $ 16.10 <! Send the Item information via the URL path !>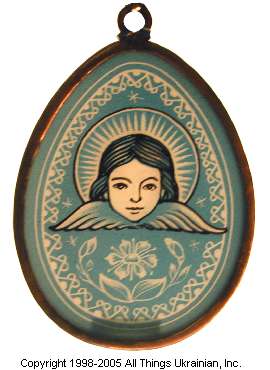 # UA052036 Icon of Cherubim Angel
Artist: Balukh
Size: 3.5 x 2.75 in inch
Hangs by eyelet built into the lead frame
Price: $ 23 $ 16.10
This is REAL leaded stained glass, done the same way for hundreds of years in Europe. These are not plastic, decals or machine printed. The artwork is hand painted by the artist. The colors won't fade, each one is kiln fired. The image is taken with a backlight to simulate full sun.
CLICK HERE to See our Order Policy.
Click the image to return to the Thumbnail pages.